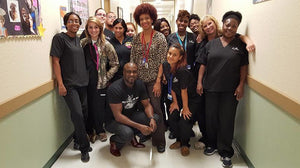 Our Mission Is Your Happiness
Dealing with hair loss, balding, and significant hair damage can be a frustrating and tiring issue. Even worse, dealing with these problems can become costly, and the various options for dealing with these issues can be overwhelming.
How about paying almost $2,000 for a hat that claims to regrow your hair? Maybe you can save a few dollars and buy a cheap wig until you find a better solution? Or maybe, you can go big and pay a doctor for a potentially costly hair transplantation procedure?
The truth is, while some may need such gadgets and procedures, many do not. There is an easier, and healthier way to save yourself some stress and grow a beautiful head of hair!
To solve this issue and make it easier, The Breakage Book was created. It's individuals who desire to improve their hair health but only need the tools the do so. No over night hair gimmicks, spray on hair lines, or ritualistic nonsense.
Backed with over 30+ years of salon, runway, and educational experience, our goal is to equip you with everything you need to fight back using time tested and proven knowledge. We took everything and condensed it all into an experience that will change the way you think, and look, at hair.
Here you will find our guide, The Breakage Book, for stopping and preventing hair loss. As well as the products and tools you'll need to do so. You'll also find resources, tips, and techniques on how to use those products effectively, and consistently, on your road to healthy hair.
This journey isn't one that you'll have to walk alone. The stress, frustration, and embarrassment of dealing with bad hair affects thousands of people. However, together, we can shed light on a new you, and awaken the Hair Hero within. Meet The Author, An Elite Hair Professional
Author, educator, and our in house Hair Hero.
Vaughn Leon has over 30 years of experience in the field of cosmetology. He has trained and provided education at Trade Shows and Seminars to audiences of over 600 participants.
A former stylist of Southeast Bronner Brothers, Inc's Dream Team, Vaughn has taught seminars and classes in Orlando, Florida; Detroit, Michigan; Hartford, Connecticut and Seattle, Washington.
Additionally, Vaughn has produced over 25 videos teaching How-To techniques for hair stylists covering theory, advance hair knowledge and techniques, chemical structure and hair color, as well as coloring relaxed and un-relaxed hair.